03 Mar

eye square goes virtual Advancing Research Conference 2022

9th to 11th of March 2022
Meet us at virtual Advancing Research Conference 2022

This is the third in a series of progressive events for UX research from Rosenfeld Media, and we really appreciate that it is designed by researchers and well-known curators from the community.
This year, the Rosenfeld team is focusing on three core themes that are important to advancing UX research. The UX research topics will be presented as conference, sponsor, and social sessions.
We will be at the sponsor sessions on three days. On day one and three, Jeff Bander, Ariane Rahn and Philipp Reiter will talk about eye tracking as a gamechanger in mobile UX research. On day two, Jeff Bander and Daniela Magana Flores will reveal how UX benchmarking helps their company to grow.
In our talk, we will show you different perspectives from UX research from which you can learn a lot, and you can meet us in person at our virtual booth. All attendees will receive access to edited recordings, sketchnotes, session notes, resource lists, decks, and other conference content for one month.
Register and meet us!
Eye Tracking Gamechanger:
Why Smartphone Eye Tracking will Revolutionize Your UX Research
Wednesday, 09th of March 2022
9:30am to 10:00am PT
Zoom-Registration
Friday, 11th of March 2022
9:30am to 10:00am PT
Zoom-Registration
The synergy of smartphone eye tracking and user experience research enables a combination of behavioural insights and in-depth answers. eye square's standardised experimental approach provides an ideal framework for large-scale eye tracking research. You better understand the mindset of your customers and how end users interact with your product.

Ahead of Competition:
Learn What UX Benchmarking Can Do for Your Business Today
Thursday, 10th of March 2022
9:30am to 10:00am PT
Zoom-Registration
We deal with efficient and quick ways of measuring UX. Does the website or app have an attractive and inspiring effect on new and old users? Where are the strengths and weaknesses compared to the competition? We present findings from our UX Online Benchmarking, which show that the implicit first impression is crucial.
About our conference partner and organizer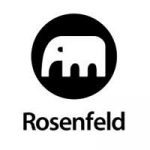 Anyone who designs user experiences takes a look at Rosenfeld Media's UX reference books and events. The formats offered represent the value of UX research and are a trusted source of helpful expertise.