29 Sep

Real Impact Award for eye square's study collaboration with Screenforce: "Mapping the Impact"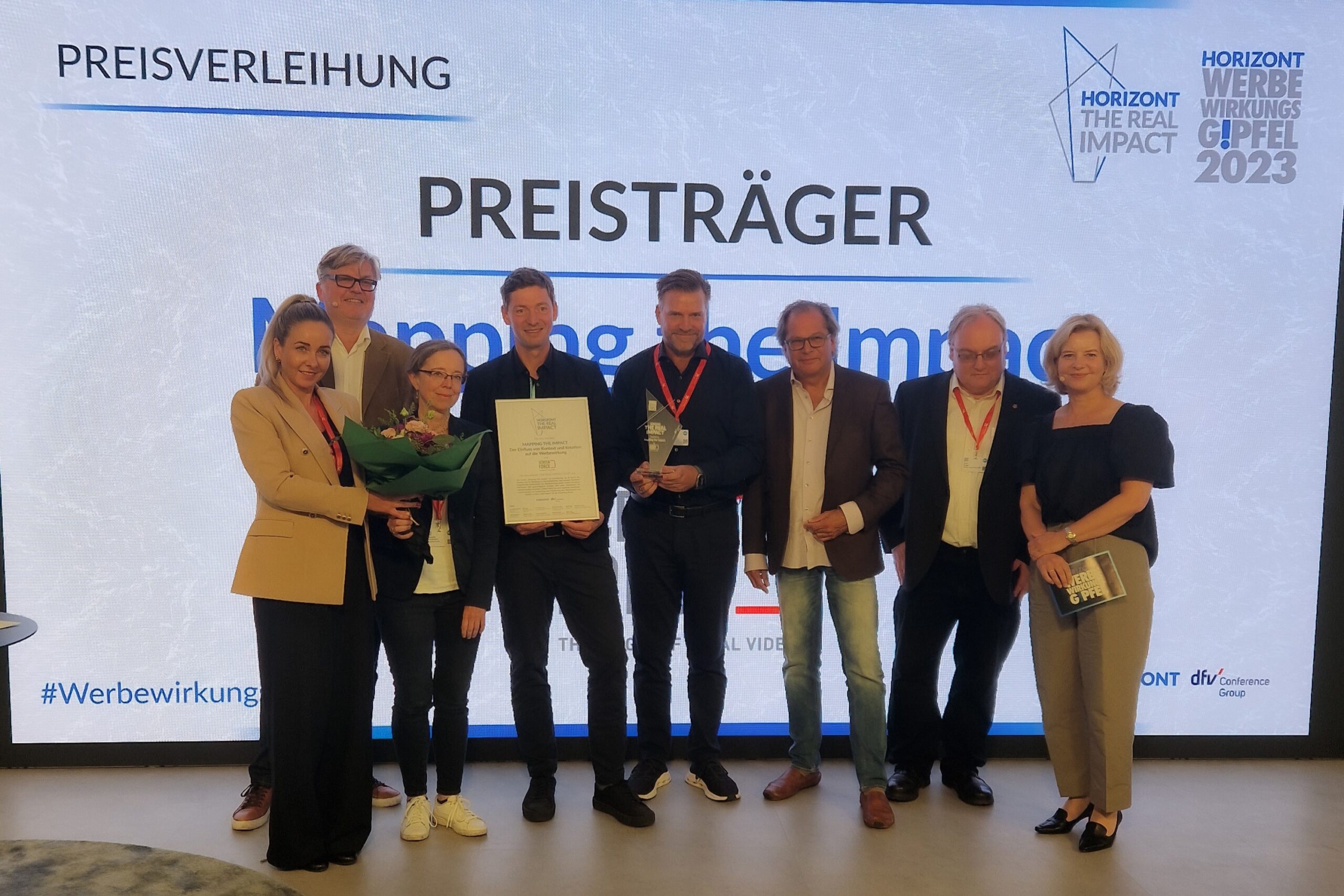 Collaboration of Screenforce and eye square win 1st place at the Horizont Advertising Effectiveness Awards 2023
Congratulations to our team and our study cooperation partner Screenforce, the alliance behind our jointly conducted, renowned study "Mapping the Impact" for the HORIZONT THE REAL IMPACT Award!
The partnership between eye square and Screenforce for the "Mapping the Impact" study particularly stood out this year and therefore won the coveted award at the HORIZONT Advertising Impact Summit in Frankfurt on 26 September.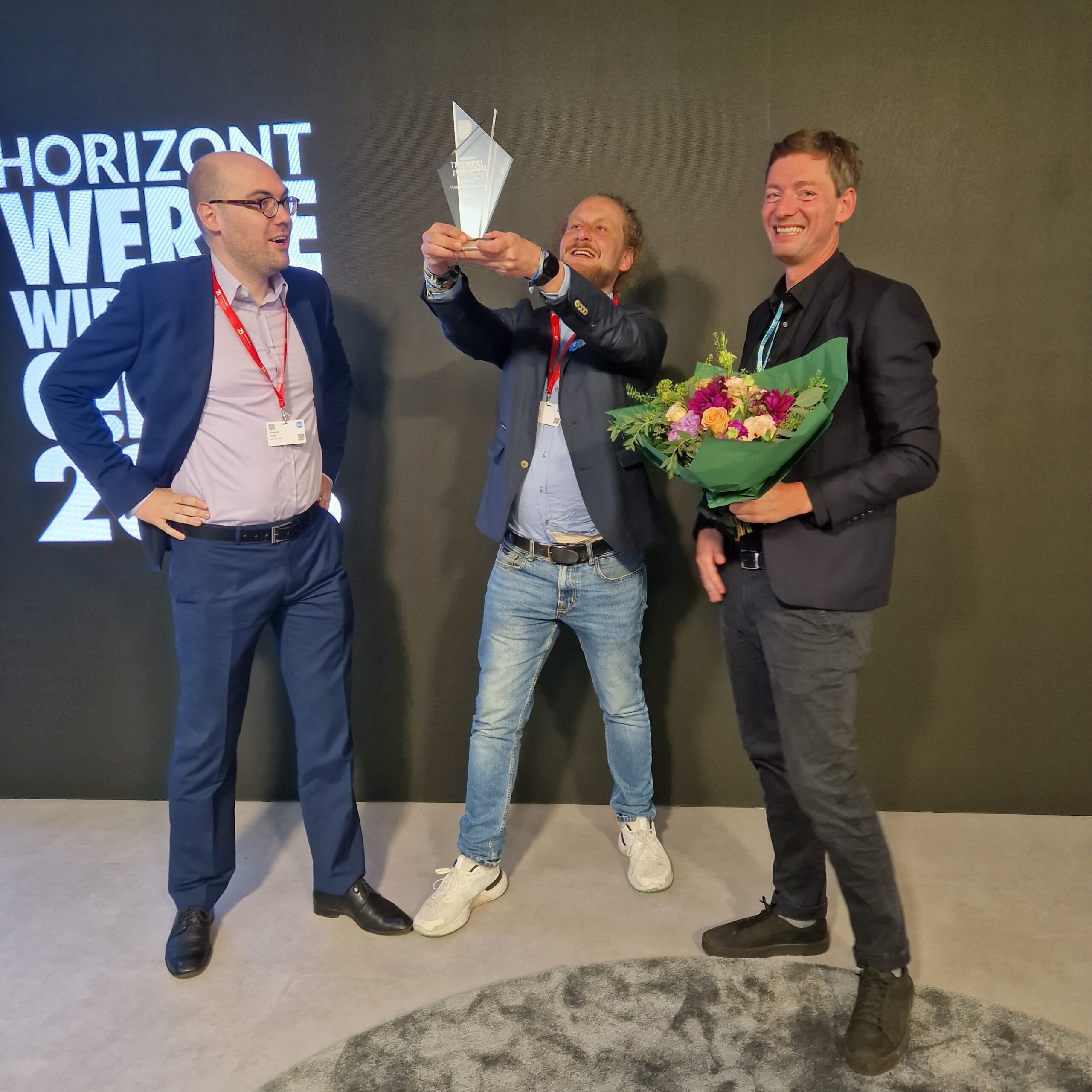 Marvin Vogt, Florian Passlick and Stefan Schönherr from the Brand & Media Team were in a good mood and had lots of fun at the award ceremony
The HORIZONT THE REAL IMPACT Award appreciates initiatives that have significantly contributed to improving the understanding of advertising effectiveness in Germany. Horizont presented the prestigious award for the second time at the Advertising Impact Summit in Frankfurt. Our co-operation partner Dirk Engel, an independent market and media researcher, was also among the renowned jury members.
More about the award ceremony!
In a video interview at the HORIZONT Advertising Impact Summit in Frankfurt, Stefan Schönherr presented the fascinating results of the award-winning study entitled "Mapping The Impact".
To provide advertisers with a practical benefit, eye square teams and Screenforce developed a tool that allows companies to determine in which scenario their advertising would have the greatest impact. According to Stefan Schönherr, this can be done with just 15 clicks. Creative teams can use this tool during ad creation to predict the effectiveness of their spots.
Read article at Horizont!
For the award-winning study and "media ethnography", Stefan Schönherr and his Brand & Media team observed the television viewing behaviour of 285 participants and analysed 855 hours of media consumption. Four different scenarios were identified in the study: Busy Day (afternoon), Quality Time (prime time), Work is done (early evening) and Dreaming Away (late evening).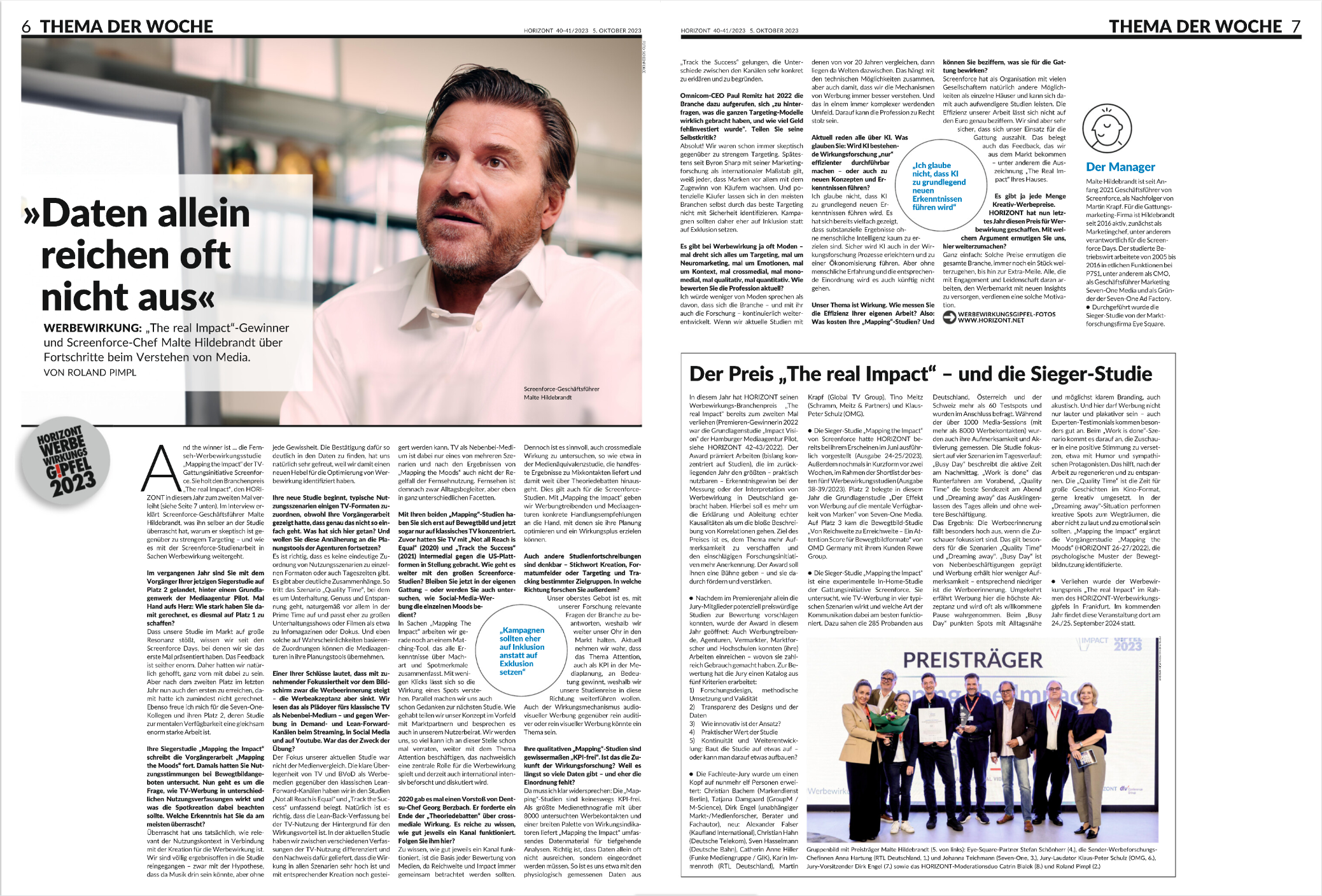 The research looks at the factors that optimise the impact of a commercial and identifies the most appropriate contexts for broadcasting ads.
"Mapping the Impact" is much more than just another research project. The study is a treasure trove of actionable insights for advertisers and media agencies.
Screenforce-Study
The eye square research team ultimately co-won each of the three award-winning studies from 1st to 3rd place. In addition to the winning study by eye square and Screenforce Germany, we also won with Seven.One Entertainment Group with a mental accessibility study the 2nd place and with the Attention Score study for REWE Group, eye square together with OMD Germany and Ad Alliance won the 3rd place.
We not only joined the Horizont Werbewirkungsgipfel this year, we also were part of the over 200 corporate market researchers and managing directors attended planning&analysis Insights 2023, titled "Insights in the Spotlight."
Keynote speakers included Prof. Jenni Romaniuk from the University of South Australia, Stephan Gründewald from the rheingold Institute, Dr. Robert Kecskes from GfK, and Rosa Strube from CSCP.
Click here to get an idea of this year's event!
Recap Insights 2023