18 Jul

Quirk's NY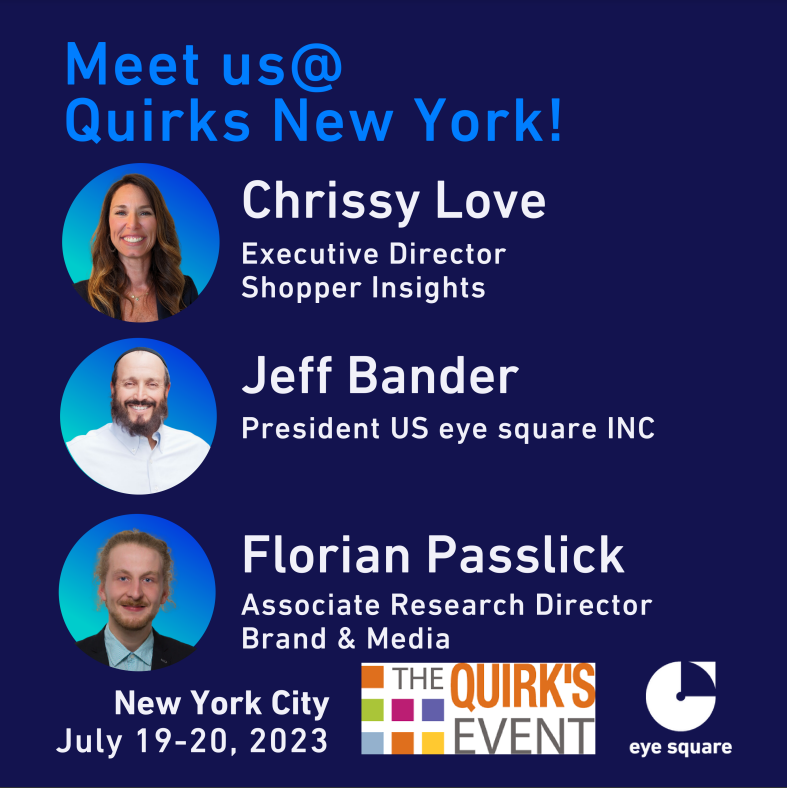 You are interested in the world of market research? And burning to dive deeper and deeper into the subject? Then this year's Quirk's event in New York is the right event for you.
Quirk's is a two-day event, from 07/19-20/2023, where partner companies, clients and market researchers will exchange ideas on all aspects of market research.
Meet eye square at Quirk's NY…
Also this year you will have the opportunity to talk with some of our employees.
On July 19, Florian Passlick will talk about the success of vertical video ads.
Using a recent case study and a psychological framework, we'll explain how to create successful vertical video ads for TikTok, Instagram and YouTube.
"What makes vertical video ads a success?" "The Dos and Don'ts of Advertising on TikTok, Instagram and YouTube" – Room 1 | 10:30- 11:00 a.m. | July 19, 2023.
On July 20, 2023, our colleague Jeff Bander invites you to dive into the world of e-commerce and learn more about fast-moving and social platforms like TikTok and YouTube.
Using eye square Live InContext System 0 technology, researchers and brands are able to gain "real-world insights" into their users' behavior. Learn more about what social ads really sell in the e-commerce world by attending Jeff's talk at this year's Quirk's NY.
"Capture consumer attention: unveiling the power of attention in the ecommerce landscape"    – Room 2 | 11:15 – 11:45 | July 20, 2023.
Also join us to meet our dear colleague Chrissy Love.
We look forward to seeing you and having many great and interesting conversations!