07 Jul

Audience Honor for PechaKucha Presentation at BVM Kongress 2022
Michael Schießl among the top three with the presentation "Les Enfants du Paradis"
in the BVM Kongress PechaKucha format
We are delighted that our CEO Michael Schießl is among the winners of the PechaKucha presentation panel at BVM Kongress 2022. He put the influence of human experience on buying behavior in an a nutshell. PechaKucha format uses 20 slides, each was presented for 20 seconds.
The PechaKucha presentation "Les enfants du paradis" gives insights about the implicit and explicit experiences of people with media and their connection with real events from the global study MAX.
Michael Schießl reported from empirical research in the global project MAX, which is designed to validate implicit and neuro-indicators and predict buying behavior. One core finding is that implicit indicators improve the prediction of purchase decisions by about 50 percent.
Furthermore, this study found out, that linear correlations dominate in the explicit, but exponential correlations are more common in the implicit. In practical terms, this means that when rational functions are fulfilled, the emotional increase in quality provides a huge growing lever for the purchase decision.
The presentation focused on these  questions:
How culturally context-dependent are the found correlations?
Which media channels evoke how strong performances (TV, digital, print)?
In which categories are implicit indicators more important, and in which are the explicit indicators?
Insights into presentation



Les Enfants du Paradies
How Human Experience influences consumer behavior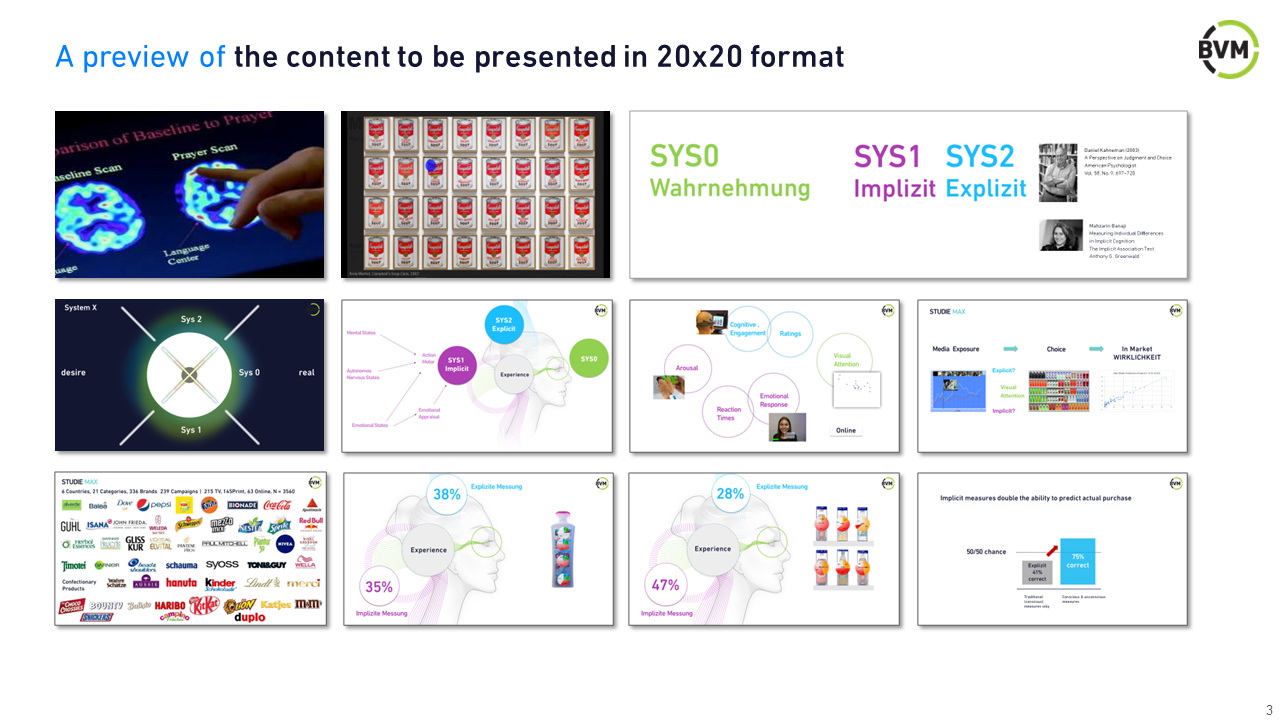 Innovative research results were presented at BVM Kongress 2022 in a PechaKucha format. The visitors got fast stories, and the topics were discussed in greater depth in group discussions on the podium.
Market researchers exchanged views on their quality assurance measures and outlined their requirement criteria in the subsequent round. The rounds showed how diverse the topics and perspectives in the industry are.