02 Nov

Event Reports of October 2023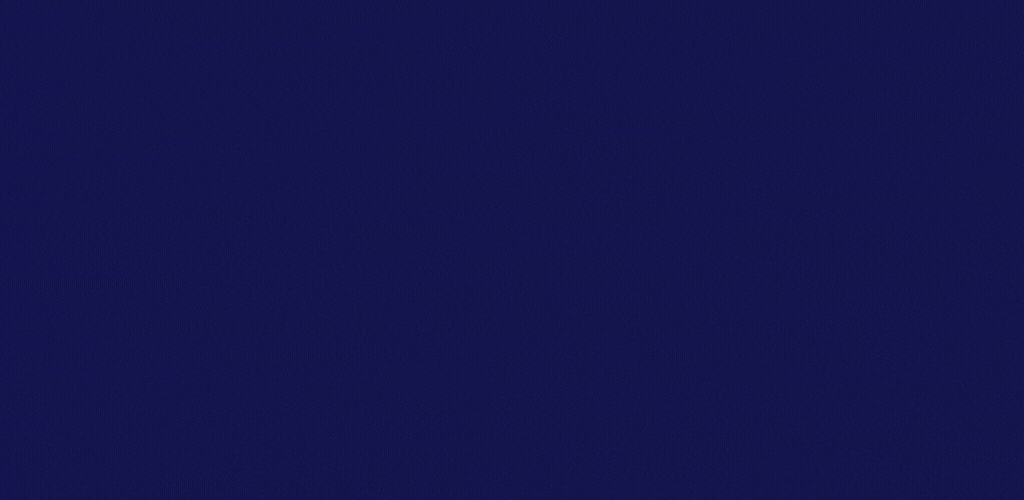 Recap October 2023-A Month full of Activities and Events for the eye square team

October was an incredible month filled with a plethora of activities and events, allowing us to come together as a team and exchange our knowledge and expertise!
Attending Succeet 2023 in Wiesbaden during late October proved to be an exceptional experience. The event provided an excellent platform to connect with individuals who share similar interests and gain insights into the current challenges and future prospects of the market research industry.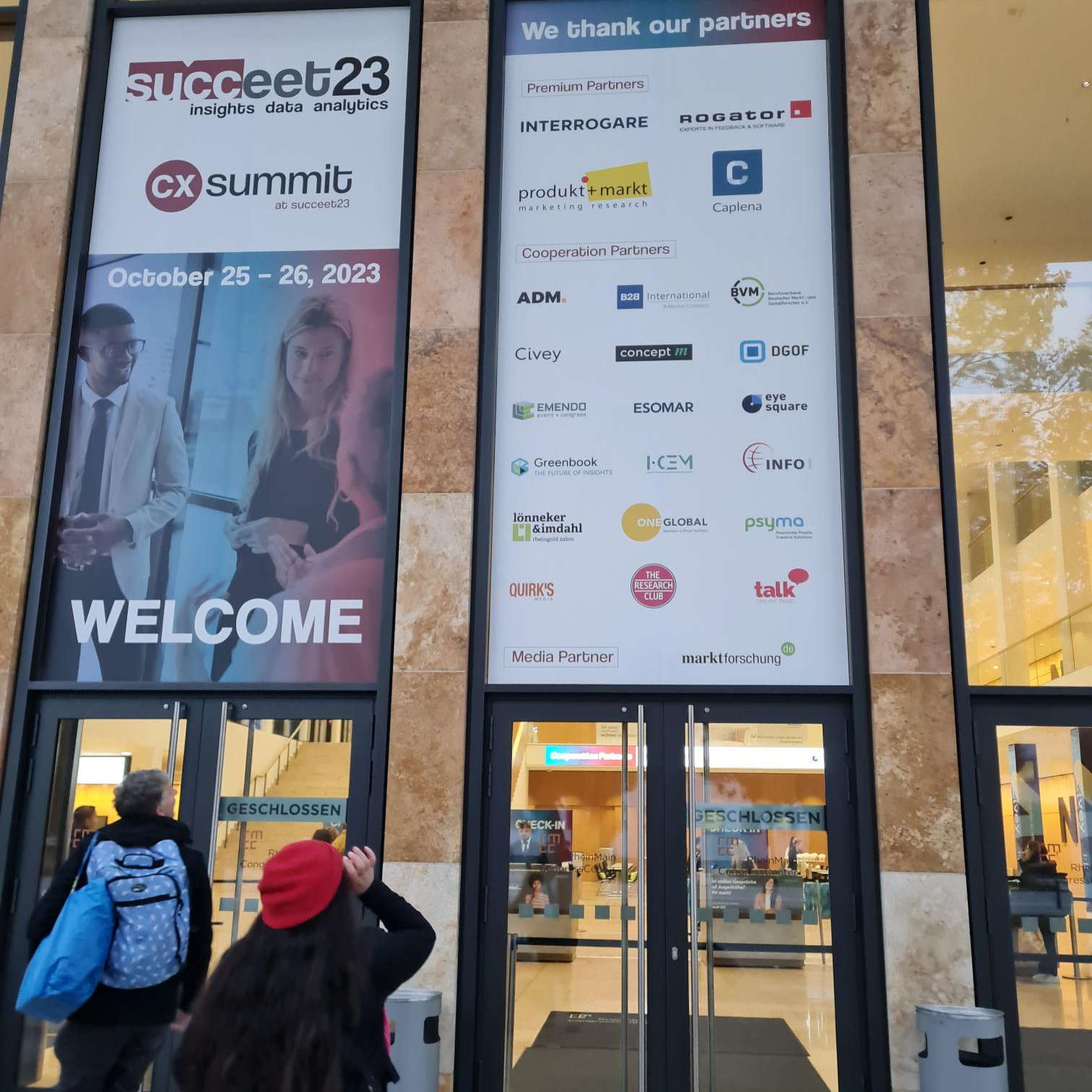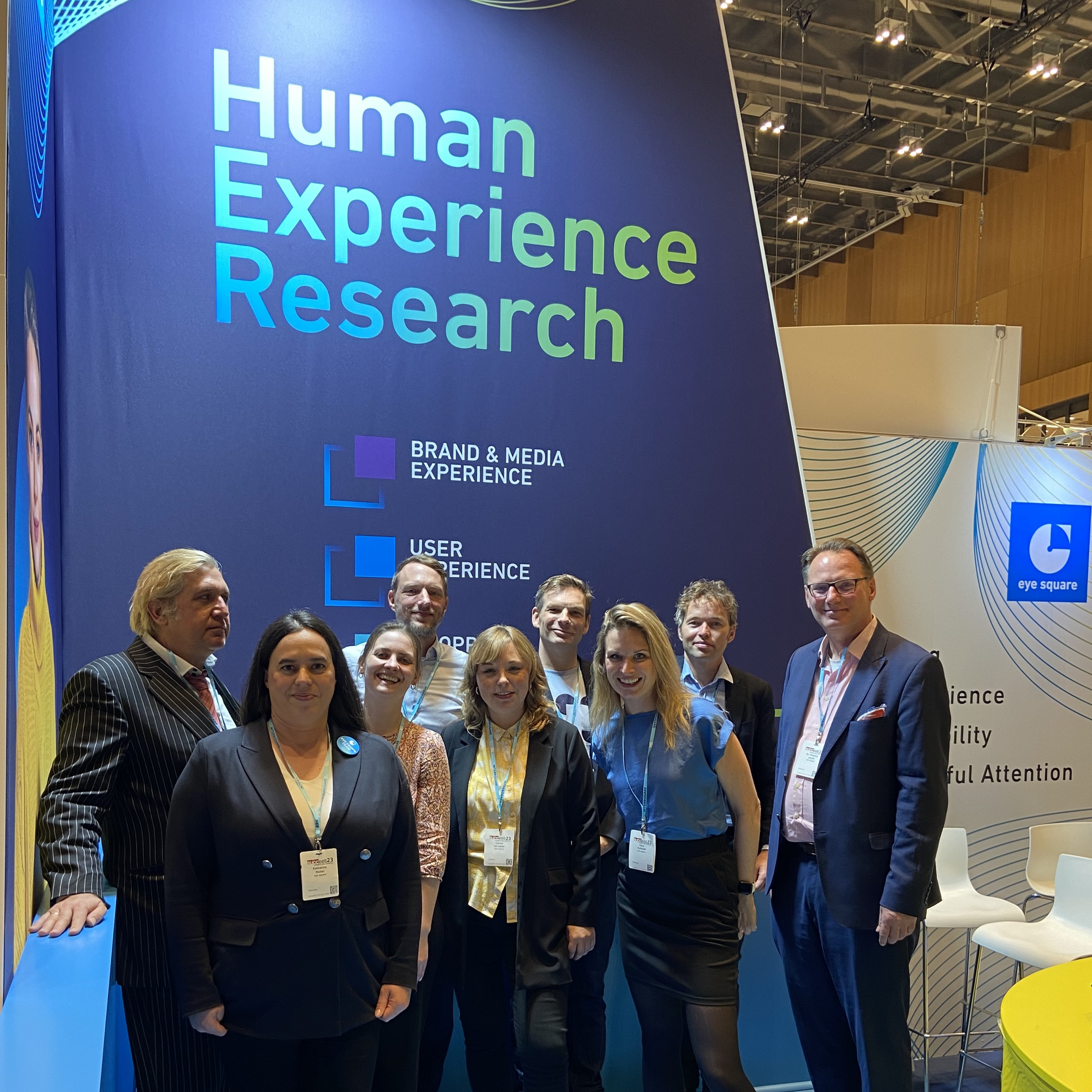 succeet 2023 took place at Wiesbaden for the 1st time. We enjoyed staying in the elegant Citta hotel in the city of Wiesbaden. suceet 2023 was divided into two days, and there were plenty of presentations from companies involved in it. Being the foremost insights trade fair, it holds immense significance for us as market researchers. It serves as a platform where industry decision-makers and idea generators converge. We had curated a captivating range of user experience, shopping, and media topics to present at the event.
Chief Scientific Officer Brand and Media Dr. Matthias Rothensee, provided insights on the latest social media research on contact quality beyond viewing time and the significance of "Meaningful Attention."
Carina de Lopéz, Vice President User Experience, highlighted the immense potential of UX research in creating Digital Wellbeing. This topic gains significant importance in the era of attention economy. The design of interfaces, aimed at maximizing attention, has inadvertently led to a decline in users' well-being due to unhealthy behavioral patterns associated with media usage.
Sven Diekmann, Lead at eye squares' Business Development, presented new research tools that are revolutionizing online shopping. Online shopping has a growing significance in our everyday lives. Enhancing the digital shopping experience is crucial for boosting sales. So he shared a range of effective strategies with the audience.
Our visitors had the opportunity to experience eye-tracking and reaction-based tools, which allowed them to understand how you can delve deep in the depths of consumer intuition through precise measurement of reaction time.
Explore additional articles and witness a captivating image showcase of this extraordinary market research event!
More than 1000 senior market research and consumer insights leaders convene each year at the TMRE Market Research Event to exchange knowledge, enhance their expertise, recognize emerging business trends, and cultivate their reputation as esteemed leaders in the field, us achieving that as well!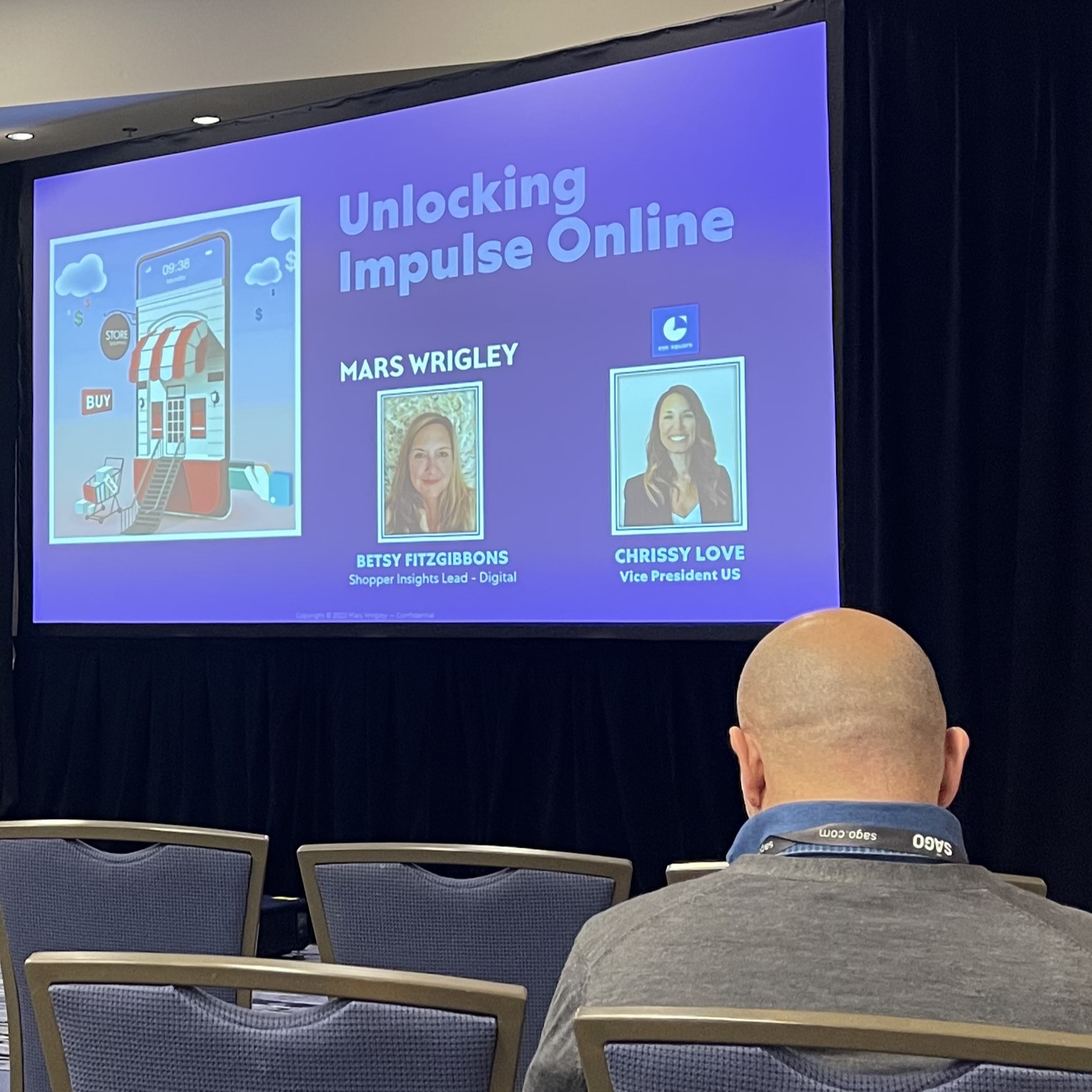 On the 23rd and 25th of October, we were in Denver, Colorado. Not only Chrissy Love, Vice President Shopper Research, but also Gareth Tuck, Chief Strategy Officer, and Ben Gooch, Research Manager Brand and Media, were there to represent eye square. It was  3-day full of investment, networking, corporate innovation challenges, and themed-stage tracks!
Chrissy Love shared the stage with Betsy Fitzgibbons from Mars Wrigley! Mars Wrigley and eye square have recently teamed up to tackle the challenge of how to boost online sales of impulse products. On 24 October, they presented their case study in the talk "Unlocking Impulse Online."

Austria Connect China 2023

In October, CEO Michael Schießl and Director China Weimei Jiang traveled to China to strengthen our ties with Tencent, a prominent Chinese multinational corporation in the technology and entertainment industry.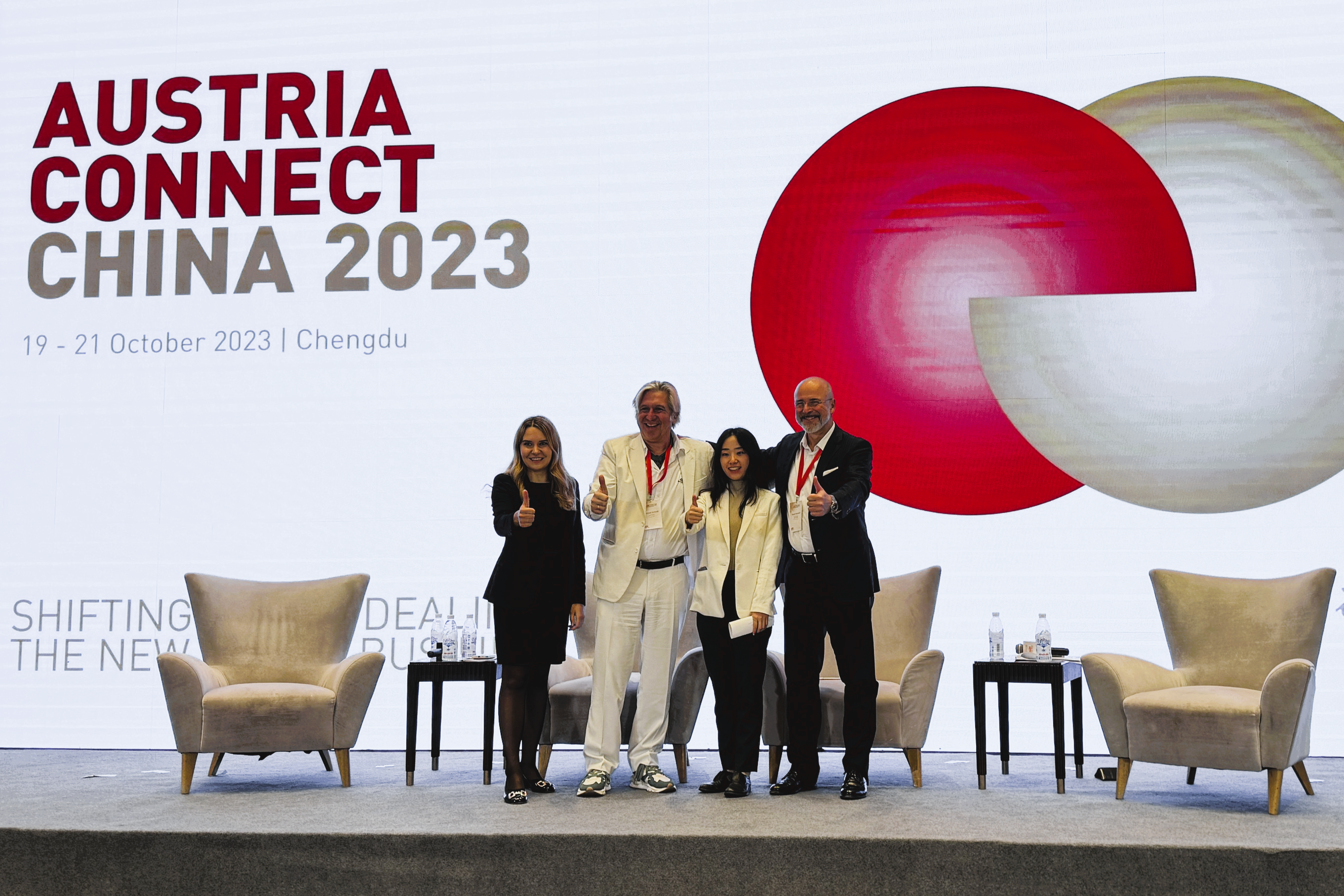 We also visited Austria Connect China 2023 in Chengdu, the largest Austrian business conference in China, to nurture and further expand our international connections in Asia.
This year's conference theme, "Shifting Tides – Dealing with the New Era of Business in China," reflects the new phase that China is entering in the first post-COVID year.
During the event from October 19 to 21, eye square CEO Michael Schießl joined a panel discussion on the new era of data in China, alongside Rainer Burkardt, Head of Practice at Burkardt & Partner, and TAO Mengying, Senior Consultant at Sinolytics.
eye square is dedicated to providing profound insights derived from cutting-edge technologies for Chinese companies.
Screenforce Academy took place once again from October 17 to 19. Attendees at this live event "Backstage Total Video," had the opportunity to enhance their media knowledge and gain valuable insights into the media landscape. The agenda included high-quality content and practical cases focused on TV and campaign planning.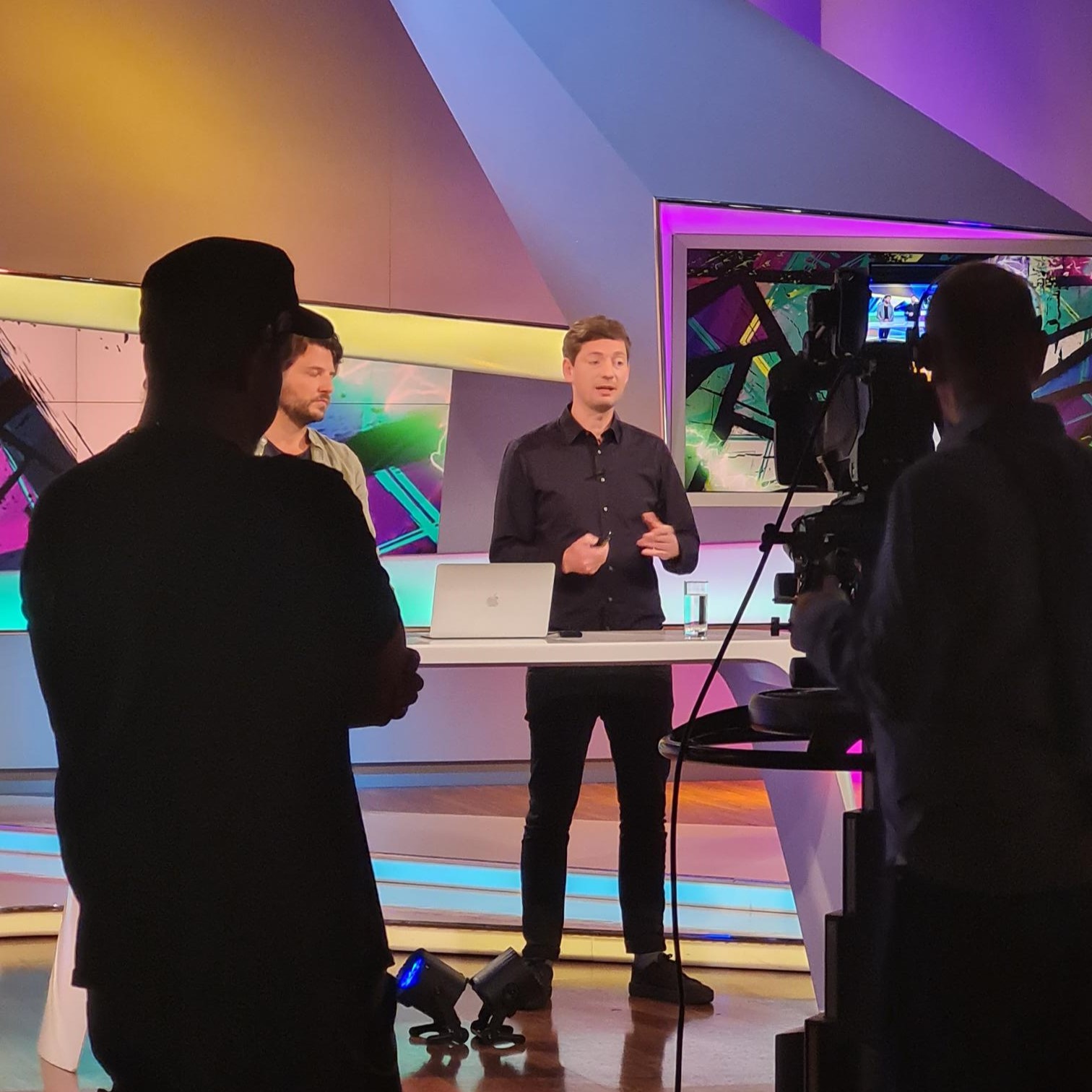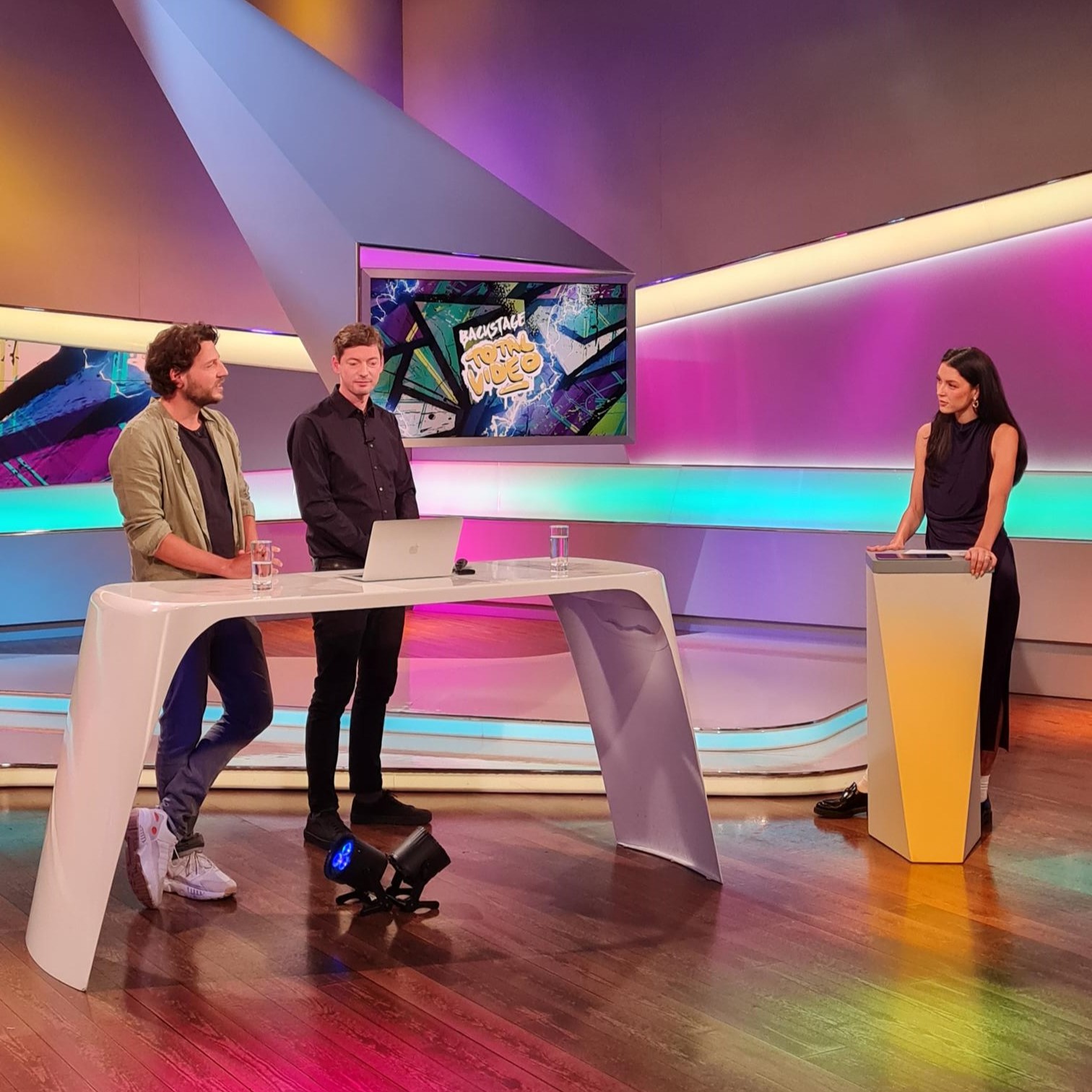 Stefan Schönherr and Daniel Reiner from RTL provided insights into the award-winning study "Mapping the Impact," which delves into how people consume television and their accompanying behaviors, moods, and interests.
Screenforce conducted a comprehensive media ethnography, observing households in Germany, Austria, and Switzerland, to gain a better understanding of the television experience. The study also included attention and activation measurements at various times of the day and week, as well as extensive research on advertising impact.
GS1 Academy Category Management

GS1 is primarily focused on optimizing value creation. Over the years, the organization has worked towards enhancing collaboration among various companies and industries.
GS1 organisation is offering education programs in their academy and one of their aims is to enhance skills in Category Management.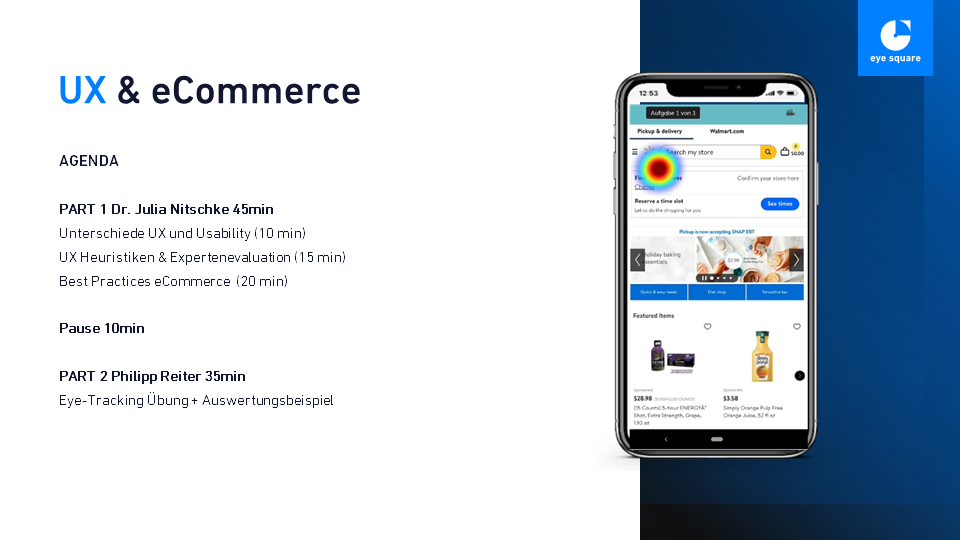 In a 2-day education session covering all the fundamentals of Category Management, Philipp Reiter and Julia Nitschke shared their expertise to help to enhance the knowledge of the attendees in shoppers' experience and product offering or store layout. Julia Nitschke provided valuable insights on the distinction between UX and Usability, along with UX heuristics, expert evaluation, and best practices in eCommerce. Meanwhile, Philipp Reiter introduced the concept of eye tracking.
Attendees learned how to define and evaluate category goals, identify sales potential, determine product listings, design optimal shelves, and successfully implement Category Management in their store.
Walnuts' Brainy Bar London

Looking closely at the meaning of attention, how to measure it and the question if attention should drive brand campaigns was the topic of Brainy Bar, a Walnut Limited live-event in London on October 11. There was an all-star line-up of speakers in the panel discussion hosted by Cristina de Balanzo, who has already been with us on the other side this year as a speaker at Berlin Memex Conference.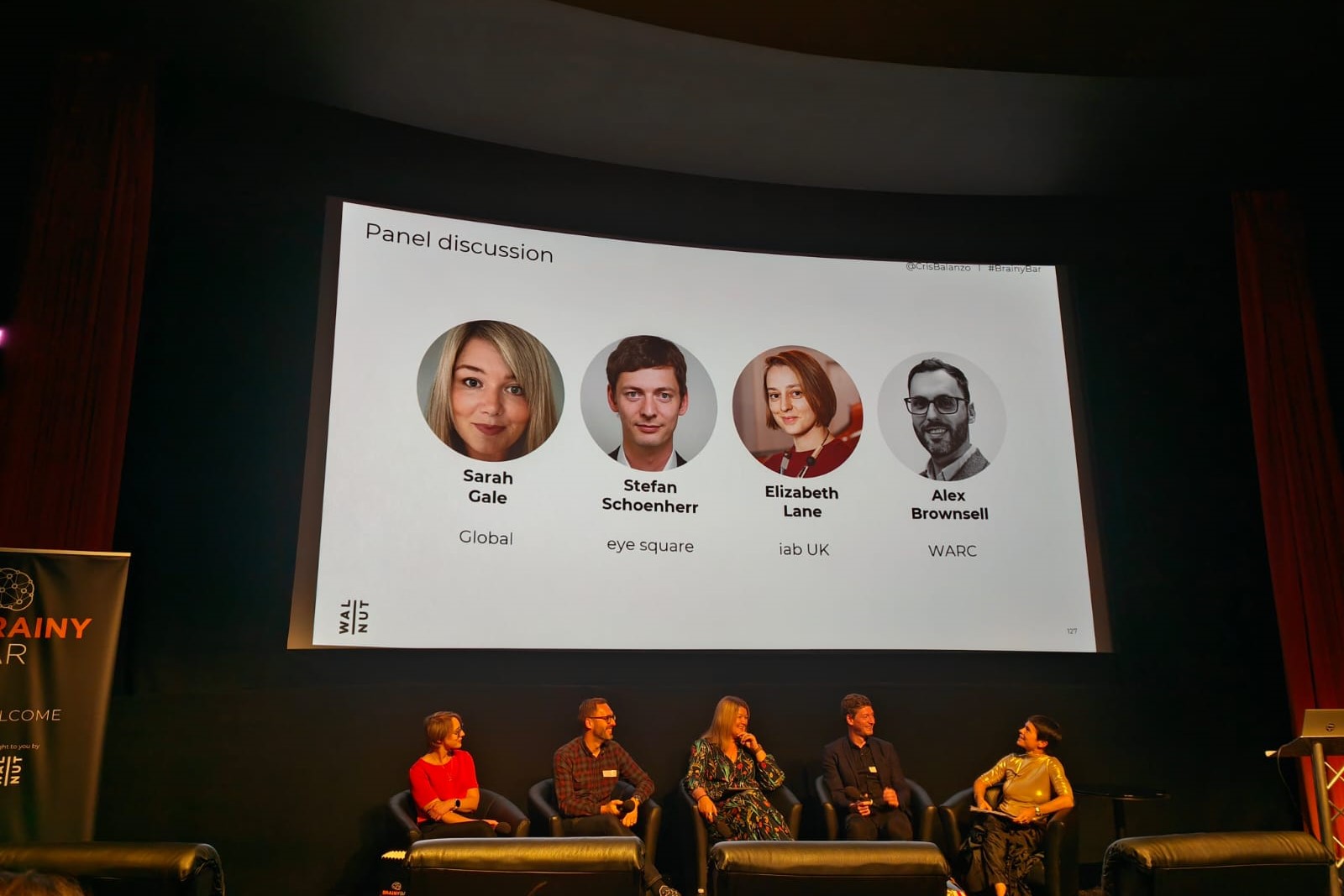 Stefan Schönherr,Vice President Brand & Media Experience at eye square, unpicked "The Science of Attention" togehter with experts from Global, WARC and IAB and the age-old question: how can brands capture attention and more importantly, how do they keep it?  
The aim of the event was to answer why attention is the key (or not) to succeed in this highly fragmented and evolving media landscape, and indeed in a world of distractions.
Horizont Digital Marketing Days

The Horizont Digital Marketing Days, held once again this year at the stunning Gastwerk in Hamburg from Ocotober 12 to 13, serve as the annual gathering for industry leaders in advertising, marketing, and services. This event brings together decision-makers who are immersed in the world of digital marketing and moving images on a daily basis.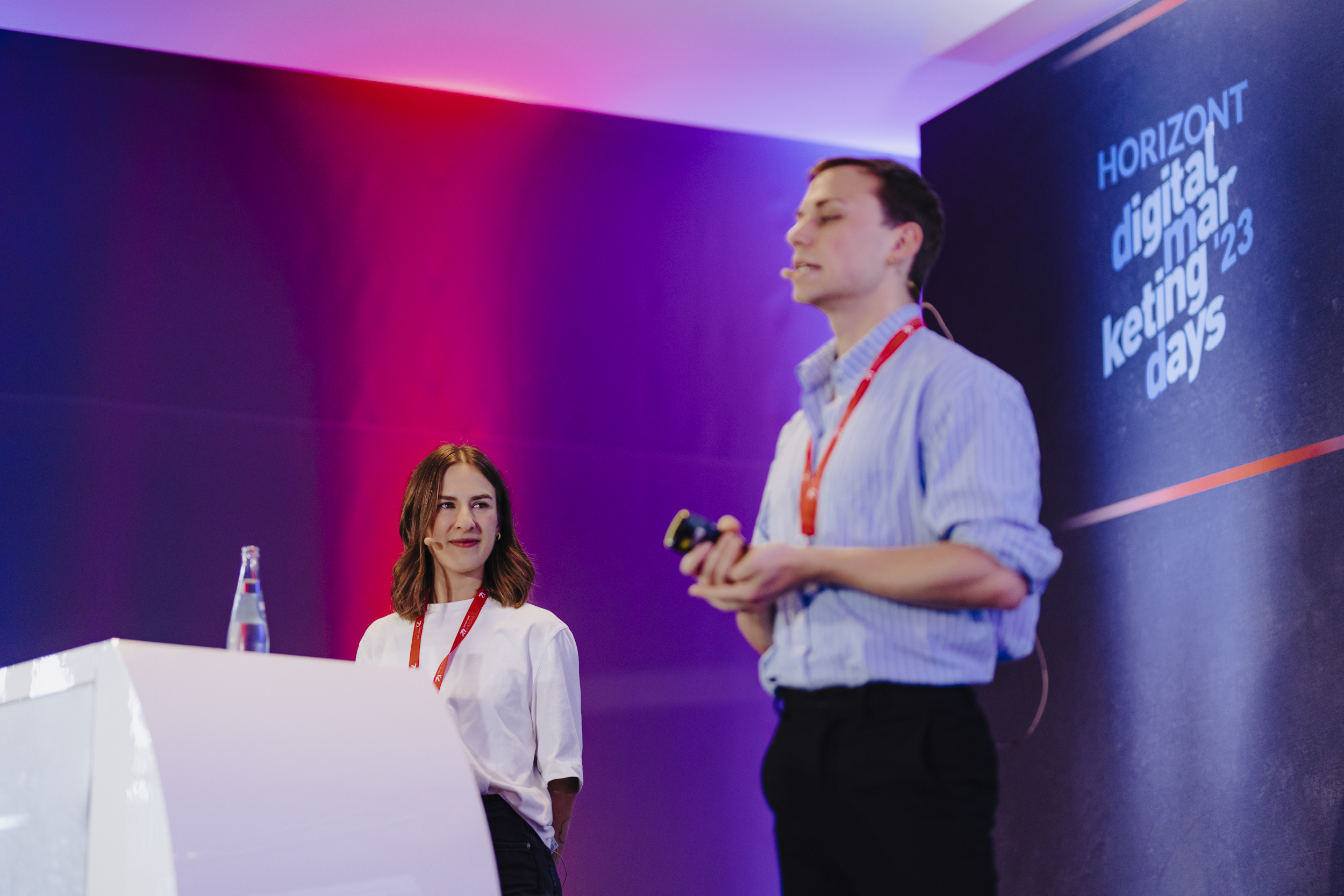 The afternoon panel at the HORIZONT Digital Marketing Days 2023 not only provided a broad all-around look at the social media landscape in terms of content.
On the first day, Nuria Sichalla, Senior Research Consultant, and Simon Koch, Research Consultant, from eye squares' Brand and Media team conducted an insightful session on users' advertising experiences on TikTok and Instagram. Given the value of screentime, our discussion centered around the theme of Meaningful Attention, which remains a key focus in our market research this year.
What is going on next month?

November is already here, so we want to invite you join the upcoming events with us!
November 2, 2023 | Hamburg | Digital Grocery Summit
The Digital Grocery Summit Germany 2023 will bring together the leading Online Grocery Retailers and FMCG/Grocery brands to understand the key actions to optimise your brand's eCommerce strategies and increase your online sales. Felix Metger will be there to share his knowledge and insights.
November 8, 2023 | Virtual | BVM Conference 2023
Reach is still a fundamental component of every advertising effect. But that's where the unity comes to an end. The BVM conference gets top te bottom of this question with the help of eye square's Matthias Rothensee.
November 14, 2023 | Virtual | planung & analyse | Deeper Insights Days 2023
Join eye square and Matthias Rothensee at this year's Deeper Insights Days and dive deep in the world of perceptual psychology in order to find answers how advertising can still be effective in ever faster media contexts.
Don't hesitate and register for the event! You can find the details on our event page!