15 Apr

The Pandemic of the Psyche – Corona Study Germany Part 2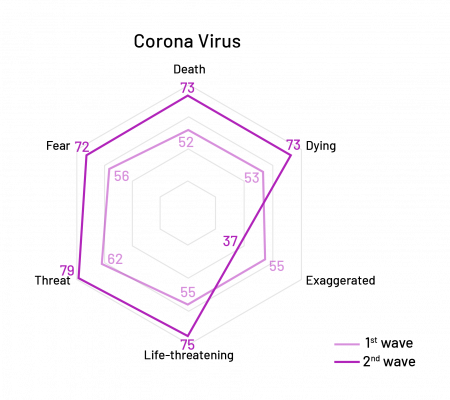 More fear than expected – a shock of emotions
For several weeks now, the Coronavirus has been keeping the economy and society under control. The media reports on it constantly. eye square's current implicit study, "More fear than expected," reveals a "regression" (phase II crisis), a major increase in negative associations with the term "coronavirus." Four weeks ago we only had moderate results; now, this picture has changed dramatically.
Associations of coronavirus with "crisis" (81% implicit agreement), "risk" (80%) and "global" (80%) have the highest values, which means an increase between 25% and 30% each. The virus is now a media and mental infection. In addition to the threat to health, there is now a general feeling of uncertainty about the future – economically, socially, politically or personally.
Communication at all touchpoints must know and understand how strong the mental obstacle of people is at the moment. The stakeholders are therefore asked to take action to counteract, to develop a "therapeutic" effect, to set up a healing sign. This is an important message for media, advertising, and communication, which must be perceived and taken seriously. More important than ever are positive and confident perspectives, which help to reach the next phase of a crisis, "hyper strength".
You can find more information and further studies in our "Corona Experience Center". Stay up to date: we regularly publish further findings about the Human Experience during the Coronavirus Crisis.
Find a media report about the study in handelsjournal.
The results of the study and recommendations for further steps can be downloaded here: