21 Jun

"We know where you're looking…" – Students learned to use eye-tracking in retail management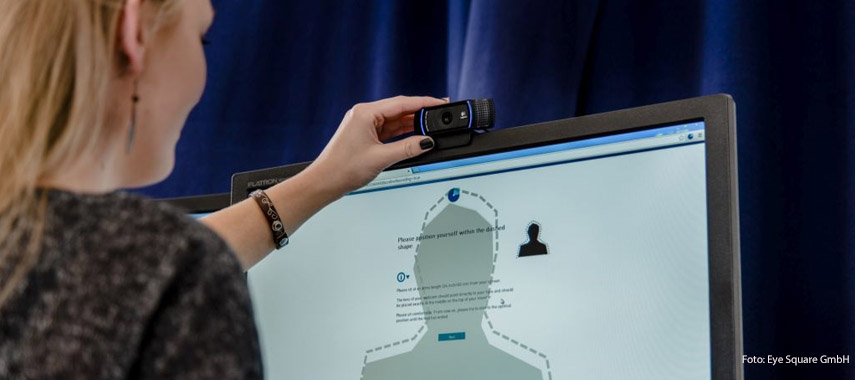 Students in the elective program "Eye-Tracking in Retail Management" examined what companies may learn from client gaze behavior and how they can use that information.
How do we search for products on websites?
What do we see and what do we miss?
Why do we reach for certain products on the shelf and ignore others?
How does eye-tracking research determine the demands on online/offline retail?
Students of e-commerce, business administration, international trade management, and logistics, pursued these questions in Prof. Dr. Julia Thalmann-Ulshöfer's elective module. In order to bridge the gap between theoretical basic knowledge and practice-oriented teaching, the event was accompanied by the Berlin-based international market research institute, eye square.
Felix Metger, who heads the shopper experience team at eye square, used many practical examples to illustrate the wide-ranging possibilities and research fields using eye tracking. "The students not only learned valuable anatomical information about our eyes and the processing of these visual stimuli in our brain, but also applied eye tracking research themselves by means of the latest technological possibilities, despite another COVID semester," Metger said." For this, smartphone eye-tracking from Oculid and Hawkeye, among others, was used in addition to webcam eye-tracking.
This way, the students also had the opportunity in the virtual semester to develop study concepts, carry out the eye-tracking tasks and analyses, and finally present the results via Webex.
In addition to a study on the packaging design of chips, which were checked with webcam eye-tracking, there were also eye-tracking findings on the mobile shopper experience at large fashion online stores. A cooperation partner of HRW, Peek & Cloppenburg KG from Düsseldorf, found the questions on online browsing behavior so significant that they expressed direct interest in the results.
More information (in German):
https://www.hochschule-ruhr-west.de/die-hrw/news/details/wir-wissen-wo-sie-hinschauen/