29 Aug

Die Magie des Storytellings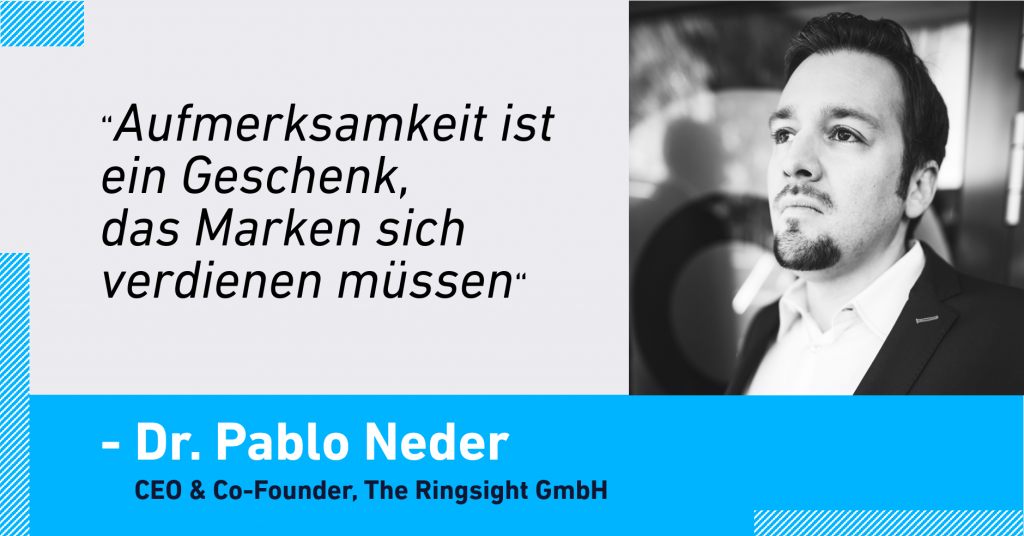 Die Magie des Storytellings:
Von Zauberern, Spiegeln und Neuronen.
Wohl wenige Menschen spielen so geschickt mit der Aufmerksamkeit ihres Publikums wie Zauberer: Sie lenken die Aufmerksamkeit, täuschen, überraschen und verblüffen. Zauberei entsteht im Kopf der Zuschauer – genauso wie die Realität. Dabei setzen Zauberer auf ihre Stärken als Geschichtenerzähler und die Schwächen der menschlichen Wahrnehmung. Doch was haben Veränderungsblindheit, Storytelling und (Zauber-)Kunst mit Daniel Kahneman, eye square und American Pie zu tun?
Das erfahren Sie im Vortrag von unserem Geschichtenerzähler Dr. Pablo Neder von The Ringsight – lassen Sie sich in seinem Memex Vortrag "Die Magie des Storytellings: Von Zauberern, Spiegeln und Neuronen." verblüffen!
Im Laufe der Karriere von Dr. Pablo Neder fand auch eye square einen Platz: so war er in den Jahren 2010 und 2011 als Research Consultant in der eye square tätig, wobei er bereits nach einem Jahr zum Senior Consultant aufstieg. Er studierte und promovierte an der Universität Bayreuth, die er aktuell mit seiner wissenschaftlichen Tätigkeit unterstützt. Seit 2018 ist er CEO und Mitgründer der strategischen Managementberatung The Ringsight.
Zur Memex